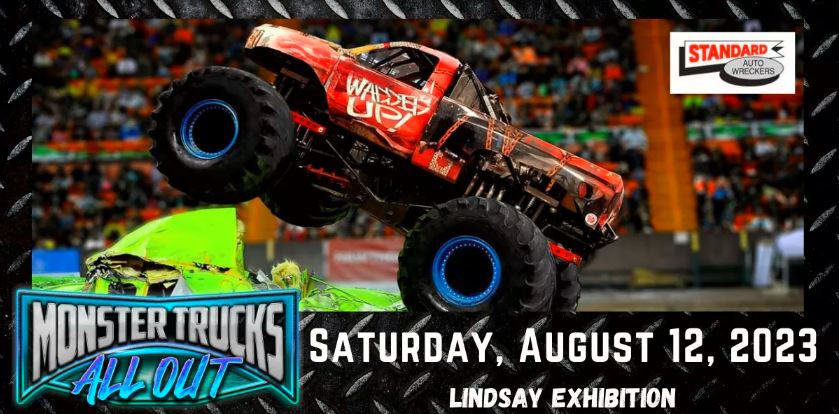 Monster Trucks All Out
The Monster Trucks All Out Tour is on a collision course for The Lindsay Fairgrounds. It's the 20th anniversary of our first show in Lindsay, so we're truly going ALL OUT!
Saturday, August 12th 
Experience all the high-flying, ground-pounding action as iconic Canadian Monster Trucks battle it out in nonstop competition against two Team Scream trucks. That's right, Bucking Bronco, Wadded Up, and Canadian Crusher will be going toe-to-toe with 2-Time World Champion AVENGER and company. It's the first time these trucks have ever square off against each other!
Plus, don't miss the world debut of our newest truck! Who is the new member of the squad? Well, you'll have to be there to find out.
Meet the drivers for photos & autographs, and get up close with the HUGE Monsters at the Pre-show Pit Party.
Ever wonder what it's like to ride in a REAL Monster Truck? Be sure to get your Monster Truck Ride tickets and experience the true power of these huge machines.
Plus fast-course, heart-pumping quad wars racing!
SCHEDULE
Matinee Show
11:00am – Doors Open
11:00-11:45am – VIP Pit Party
11:45-1:00pm – GA Pit Party
1:30-3:30pm – Show Time
Evening Show
5:30pm – Doors Open
5:30-6:00pm – VIP Pit Party
6:00-7:00pm – GA Pit Party
7:30-9:30pm – Show Time